Unusual
I have been tagged for a Q & A with Bereaved Single Dad. And, away we go…
The Rules
♦ Answer the questions you receive (straight, funny, absurd…up to you)
♦ Create three questions of your own (for those you tag)
♦ Tag three people
The Questions
[1] Pink and yellow dot sports car or an Alvin & The Chipmunks designed utility vehicle?
I would take either but, I'm leaning toward Alvin & The Chipmunks. And, since 'utility vehicle' is vague, it would be a four-door, manual transmission Jeep! It would have loud speakers and play the 1958 Christmas Chipmunk Song, over and over. I would be marked for death. [I still want a hula-hoop…]
[2] Who would you make world leader? Your choices are Shaggy (Scooby Doo), Homer Simpson, Squidward (SpongeBob) or Rico (Penguins of Madagascar).
Well, Shaggy…of course. Being the scaredy-cat that he is, there would be no wars…only peace, love, funny walks and Scooby snacks. Homer Simpson would be taken out of the nuclear plant. [I haven't the first clue who Rico is. Is Squidward the one that looks like an Ood from Doctor Who, only he is red?]
[3] You have to sit in a bath of cold food. Which food?
Doesn't matter. I would be a fully clothed and saran-wrapped like a burrito.
My Three Questions
[1] If you were a Marvel Superhero, what would be your super-power?
[2] If you could go back to high school, what is one thing you would change?
[3] If you could live anywhere, where would it be?
My Tags
Britchy [Naturally, you were the first that came to mind…]
Coffee [Second one that came to mind…]
Fresh Hell
Anyone is welcome to participate. Anyone is welcome to not participate.
Thanks, Roy.
Predictions of Darkness
In recent months, there have been an increasing number of websites, coming into being, informing us that we are about to undergo a period of three days of darkness some time in the near future. Most of these web sites state that this period of three days have historical precedents that are recorded in The Old Testament and in Mayan records. But what truth is there to these predictions and from where do these predictions originate?
Historical Records
Several of these websites use the text of The Book of Exodus from The Old Testament to "prove" that there have been "days of darkness" in the past and that when they occurred, the effects on the population was far-reaching. From The Book of Exodus, Chapter 10, Verses 21-23:
"And the Lord said unto Moses; stretch out thine hand toward heaven, that there may be darkness over the land of Egypt, even darkness which may be felt."

"And Moses stretched forth his hand toward heaven; and there was a thick darkness in all the land of Egypt for three days."

"They saw not another, neither rose from his place for three days but all the children of Israel had light in their dwellings."
That seems to say that Moses brought about a state of "thick" darkness that lasted for three days and, somehow, benefitted his followers but, brought problems for others without specifying just what those benefits and problems actually were. The current warnings about three days of darkness state that they will extend world-wide, whereas these passages from Exodus specifically state that the darkness was only over Egypt. Certainly, if we look at historical records from other countries, there are no accounts of similar days of darkness; thick or otherwise.
If we then continue on further into the Exodus story, we find that Moses and his followers were led across the deserts and wilderness by "a column of smoke by day" and by "fire by night". So, what produces "a column of smoke by day" and "fires by night"? There are two possible answers here.
Firstly: the area around Egypt is rich in oil, specifically bitumen-bearing sands or tar-pits. These were specifically written about by the ancient Babylonians. These bitumen-bearing sands were also known to catch fire, when struck by lightening and, to burn for several days.
[Note: the climate and vegetation of the area was very different to what they are today. At the time of the Exodus story, about 5,000 years ago, the climate and vegetation was sub-tropical with lush vegetation and, heavy rains. As the climate of the area dried up, so did the bitumen sands.]
If the prevailing winds were blowing from the north and there was a burning region of bitumen-bearing sands, would that not cause "a thick darkness" and the fumes from such burning cause people to become weakened? Secondly: there is also evidence of volcanic activity in this region also about 5,000 years ago. This, again, can cause "a thick darkness" and poisonous fumes. Both of these scenarios also produce "a column of smoke by day" and "fires by night".
The Akashic favours the volcanic explanation. There is a slight area of doubt as it could be that the outfall from a volcano set alight a region of bituminous-bearing sands.
Mayan Records
Many of the current websites also state that there is an account of three days of darkness held within the records of Mayan peoples of South America. However, these do not appear to exist in any historical record either recorded by the Mayans or any of the other peoples of South America either before or after the Mayans existed. Therefore, the inclusion of "Mayan Records" as a source for information of three days of darkness appears to be a hoax.
Other Aspects of the Predictions of Darkness
Currently, these predictions of three days of darkness do not stop at it just becoming dark. In addition to "the darkness", these predictions go on to say that:
♦ This will be a total darkness that is global in its extent where we will be unable to see our hands in front of our faces.
♦ The Earth will stop turning.
♦ There will be a considerable drop in oxygen levels where many will asphyxiate. (We must also put all animals outside of our homes otherwise they will use up all of our oxygen. In other words, all pets must die in order to save their owners).
♦ Temperatures will drop far below zero and so many will freeze to death unless they take precautions.
♦ There will be dimensional instability with the merging of a number of dimensions.
♦ With this dimensional merging, there will be the arrival or emergence of a number of "entities" and "beings".
There seems to be a number of variations on these themes but, the list here covers the main aspects of these predictions.
To look at these predictions in detail:
♦ Total Global Darkness
According to the Akashic, there has never been a time in the history of the Earth where the whole of the Earth's surface has been totally dark. As with the story from Exodus, there have been periods of localised darkness brought about by volcanic clouds but, the level of darkness produced has never been total; only down to a level of twilight. The only way in which total darkness could occur, on a global scale, is if the sun stopped shining and, if that happened, all life on Earth would die no matter what precautions they took.
♦ The Earth Will Stop Turning
Again, the Akashic does not record a period when the Earth did not revolve. There have been two events in Earth's history that were totally catastrophic for the Earth and all of Her life (see Synthesis). The first occurred approximately 3.8 million years ago when two planets, that were within our solar system, decided to "leave". The explosion produced by these two planets leaving destroyed virtually all of the life within our solar system. The Earth was rocked on Her equatorial axis and most of Her atmosphere was lost. Despite this amount of damage, the Earth did not stop revolving nor did it bring about global darkness.
The second world-wide disaster was with the destruction of the continent of Atlantis. The sinking of a continent triggered a huge number of earthquakes and volcanoes and, shifts in the tectonic plates. There was a massive loss of life and habitats and, some loss of atmosphere. Despite this amount of damage, the Earth did not stop revolving nor did it bring about global darkness. There is only one way in which the Earth can be stopped from revolving and that is by the death of the Earth's consciousness.
♦ There Will Be A Considerable Drop In Oxygen
There are only two ways in which the oxygen in the atmosphere can be depleted:
Firstly: by a similar solar system-wide disaster to that which occurred 3.8 million years ago and the current "days of darkness" predictions do not make any predictions of a disaster on that scale.
Secondly: there are a huge number of tectonic plate movements which release poisonous gasses into the atmosphere. Again, the current predictions do not include for this happening.
To continue reading, download the PDF version HERE.
[Note: This PDF was originally posted on The Spirit Guides UK website on June 1, 2011. The post & PDF have since been taken down.]
There is a point at which all of the changes that have been spoken of in the last few years come about. As we moved into November 2010, all of the long-awaited shifts in energy began in earnest and we started a new phase of development as the energies we have available to us entered a new, and final, phase of acceleration. Many felt this new phase begin and welcomed it in, whilst others started to feel that they were under pressure, almost to the point of feeling under some kind of 'attack'.
So what is going on?
If you look at the graph below, what is represented there is the way in which the energy frequencies connected with us and the Earth have changed in recent years. In order for us to be physical on this planet, the Earth has always produced a 'base-note' frequency of 7.56 Hz (that is a frequency of 7.56 cycles per second). Don't worry if you do not understand cycles per second or Hz, it is the values of the level of change that are important. The Earth's own frequency is that which allows the soul to take on physical form and also, through our 'root' chakra, connects us to the Earth. At the time of Atlantis, we had the whole of the soul within the physical body – not the physical self/higher self soul division we have become used to. The problem was that we knew that the Earth's base-note frequency was too low to maintain our original 'whole soul' state but we did not know what this frequency needed to be raised to in order for us to be in that state again.
For the past 7,000 years we have been investigating what the new frequency needed to be and in the year 2,000 we finally worked it out. Once we had arrived at the answer, the Earth responded immediately and raised her base-note frequency from its original 7.56 Hz to 3,500 Hz (3.5 kHz) in May of that year (green line on graph). Unfortunately, humans being humans, we were a little low in responding in the same way and it has taken us a further ten years to arrive at the point where we can accelerate our own energies.
A new phase of existence.
This is what happened at the start of November 2010. As can be seen from the graph (blue line), we had raised our own frequencies a little (to around 13 Hz) but then the graph begins to curve and then rise. By the start of November 2011 we will have caught up with the changes the Earth has already made and be in a position to resonate at 3.5 kHz, allowing us to reintegrate the whole of the soul back into the body and, for the first time in 7,000 years, once again become true Human Beings. Once we have achieved that new state, we begin an entirely new phase of human existence which has no time limit. The November 2011 date then allows us an extra year to sort ourselves out before the end of the calendrical cycle of the 'Fifth Sun', of the Mayan Calendar, that ends on the 21st December 2012. The important thing to remember about the Mayan Calendar is that it does not mean the end of the world, it just means that we have completed the last cycle of our old way of life and we are set to begin an entirely new level of being.
Continue reading or you can download the PDF version HERE.
[Administrator's Note: The original article was written in 2011 and printed in the January 23 edition of the Cygnus Review Magazine.]
Neighbors with humor…
Same house a year ago.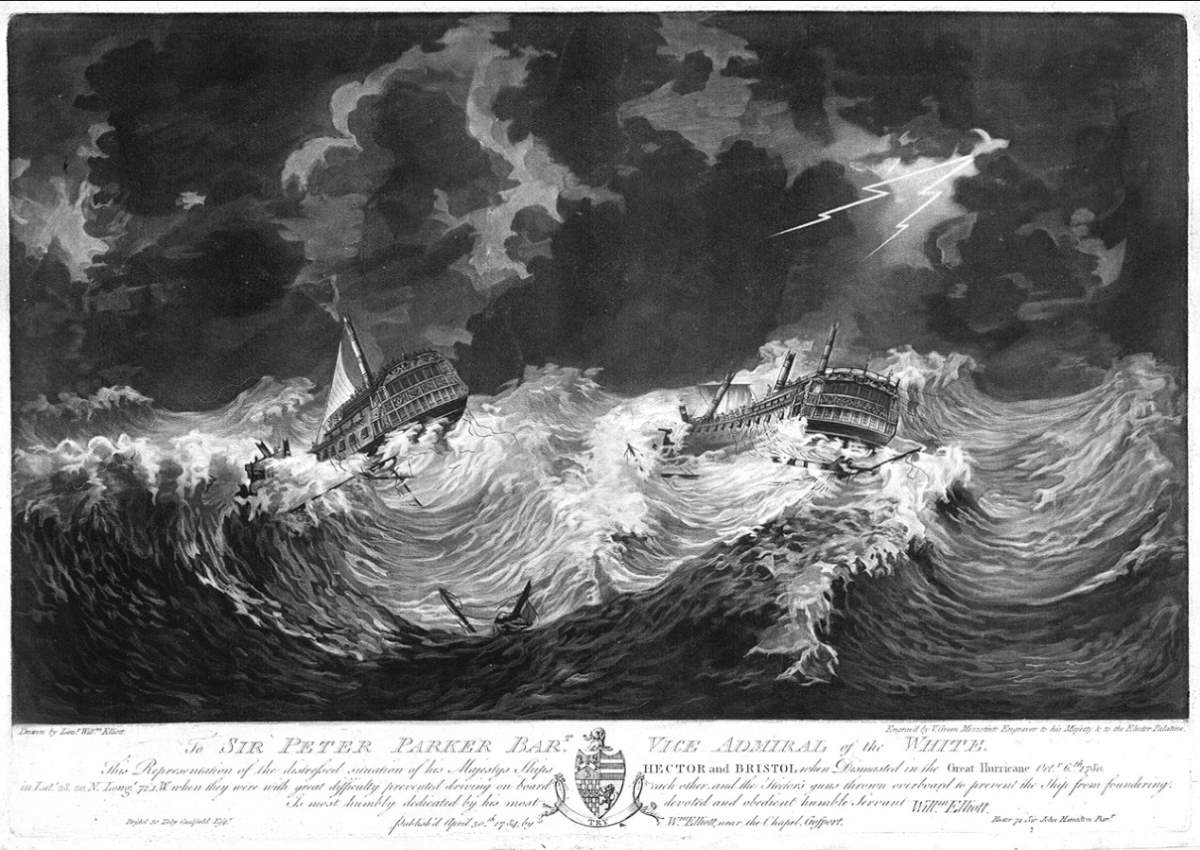 As Hurricane Michael, a Cat 4 monster, slams the Florida Panhandle (making history, today), the Great Hurricane of 1780 is still the deadliest Atlantic hurricane in recorded history, with a death toll between 22,000 and 27,000+. Also referred to as the Great Hurricane of the Antilles, the 1780 Disaster and the Huracan San Calixto, it was one of four major hurricanes in the 1780 Atlantic hurricane season, the worst hurricane season in recorded history.
On October 10, the San Calixto Hurricane (official name) struck the island of Barbados with, possibly, 200+ mph wind gusts, making it an extreme Cat 5. The winds were so violent and so deafening that, reportedly, "people could not hear their own voices". It felled most every tree, stripped the bark off the few left standing and nearly destroyed every house on the island. The specifics of the hurricane's track and exact strength are unknown as the Atlantic hurricane database starts in 1851 but, historical records from Puerto Rico, Jose' Carlos Milas (Cuban Meteorologist), NOAA and hurricane research from The University of Rhode Island indicate that the storm moved on to St. Lucia, Martinique, Dominica and struck Guadeloupe. It turned towards Puerto Rico, hitting Isla de Mona and, later, the eastern portion of the Dominican Republic. The beast finally reached the Atlantic Ocean on October 15 after passing the Grand Turk Island. It passed Bermuda on October 18 and was last seen two days later off the coast of Cape Race in Newfoundland.
From Hurricane Science at The University of Rhode Island:
Coming in the midst of the American Revolutionary War, the 1780 hurricanes caused heavy losses to European fleets fighting for control of the New World's Atlantic coast. A fleet of 40 French ships capsized off Martinique during the Great Hurricane, drowning approximately 4,000 soldiers. On St. Lucia, rough waves and a strong storm surge destroyed the British fleet of Admiral Rodney at Port Castries. Much of the British fleet was decimated by the three storms, and the English presence in the western North Atlantic was greatly reduced thereafter.
The worst losses, however, were suffered by Vice Admiral Peter Parker and Rear Admiral Joshua Rowley.
Other interesting October 10 history:
1582…..Due to the shift from the Julian calendar to the Gregorian calendar, today does not exist.
1845…..The Naval School (U.S. Naval Academy) opens.
1967…..The Outer Space Treaty goes into effect (yes, this is a thing).
1973…..Spiro Agnew, Richard Nixon's first Vice President, resigns after pleading guilty to federal income tax evasion.
1985…..U.S. Navy F-14s intercept the Egyptian plane carrying the hijackers of the MS Achille Lauro and force it to land in Sicily. The hijackers are arrested.
Busy, busy day… ~Victoria
"Firstly, we are not a slave race." ~Chris Thomas
Those of us who have a more alternative view of world events are receiving increasingly confusing stories of who we are and just what is the purpose of life on this wonderful planet of ours…all of this confusion being centred round the dates of 2011 and 2012. Over the past few years, I have taken delivery of a growing number of letters and emails and, had conversations with people who are becoming progressively more confused over information they have received, from numerous sources, about a race who call themselves 'Annunaki'. All of this information claims that we are somehow 'Ascending', somewhere unspecified, where we will magically transport ourselves to a 'Fifth Dimension'.
How do we make the leap?
Deep down, we all know we are here on Earth for a reason but, at our current level of consciousness, can't quite grasp the details of our story. We know that we are changing, we also know that, as a race, we are set to make a huge leap in consciousness awareness – but how? This is where the confusion arises – how do we achieve what we know we should be achieving as there does not appear to be any guidelines? This lack of known direction is creating a void, a lack of certainty, which is proving to be very unsettling.
The problem is that all of this discussion about 'Ascension' has its attractions but, with that sense of attraction, also comes confusion. This has arisen because, while we know we should be on our amazing Earth, at the same time this offer of 'Ascension' suggests that we might be able to achieve a raised consciousness by leaving the planet but, without solving any of the problems we have generated. Into this void has arisen a story which, on the face of it, has many attractions. Here we have an alien race that claim to be our makers and who have returned to Earth, at this time, to help us through our transition to a 'fifth dimension'. These claims centre round a 'Galactic Committee', of varying names and descriptions, who control a large fleet of space-ships, under the control of 'Ashtar Command', that are arriving in our solar system with the intention of transporting us off the planet.
Leaving our troubles behind…
This 'Annunaki Plan' is seductive, offering to take care of all our troubles for us…we (humans) are taken off the planet and, so, we no longer need to worry about global warming, nuclear weapons, pollution, overpopulation and food shortages… We wouldn't have to deal with those kinds of problems as these kind aliens will sort all of that out for us. But…having read a great deal of the information these aliens are channelling, nowhere do they state where they are meant to be taking us. Somehow or other, 'ascending to a fifth dimension' is meant to solve all of our problems, cure all of our ills and, lead us into a future where all will be beyond our wildest dreams. However, wherever these aliens take us to, it will not be on Earth. These aliens also state that they created humans to be a race enslaved to the Annunaki. This enslavement should also be taken into account when we consider this 'Annunaki Plan'.
Continue reading or download the PDF version HERE.
[Administrator's Note: The original article was written in 2010 and printed in the September 29 edition of the Cygnus Review Magazine.]